Seek 👀
Using Seek's device system, children and parents can capture their everyday memories to share with each other at home

Current market devices such a child cameras, smartwatches, and GPS trackers are designed for either the child or the parent, not both. Many also take power and privacy away from the child, allowing the parent to track them constantly.

Seek treats the child and parent equally, giving them the same restrictions and access to information. This helps to preserve a strong relationship built on trust and understanding.
Roles:


User Research
Rapid Prototyping
Physical Fabrication
UI Design
Soldiworks CAD
Keyshot Visualization
Duration:


10 weeks
(March 2022-May 2022)
---
---
Problem Space Research
---
Parent Case Studies

To better understand parent-child relationships, and gain insight into their thoughts and emotions, I worked with 2 sets of parents:
*To protect participants' privacy, all faces and names have been removed, changed, or blurred
---
Children Studies
To understand the minds of children, I also worked closely with developmental psychologist Dr. Erik Thiessen, and the students at The Children's School @ Carnegie Mellon
---
Sketching out initial ideas
Modelling Prototypes

While I begin by exploring geometric shapes inspired by handheld devices such as walkie-talkies, remotes, and keyfobs, I soon realized that these felt too mechanical and emotionless.

I then turned towards exploring organic forms, taking pebbles as my base and drawing my desiers features on top of them. Taking what I learned from this, I made a couple more forms, focusing on creating a balance of flat and convex surfaces.


Testing Prototypes

Throughout the design process, I would share my prototypes with the kids from the Children School and with the parents I was working with to get their feedback

During these study sessions, I could also observe first hand how they interact with the product and take notes on what was intuitive to them
CMF Design

The final Solidworks model was taken into Keyshot to explore different materials, colors, and finishes before deciding on the final choices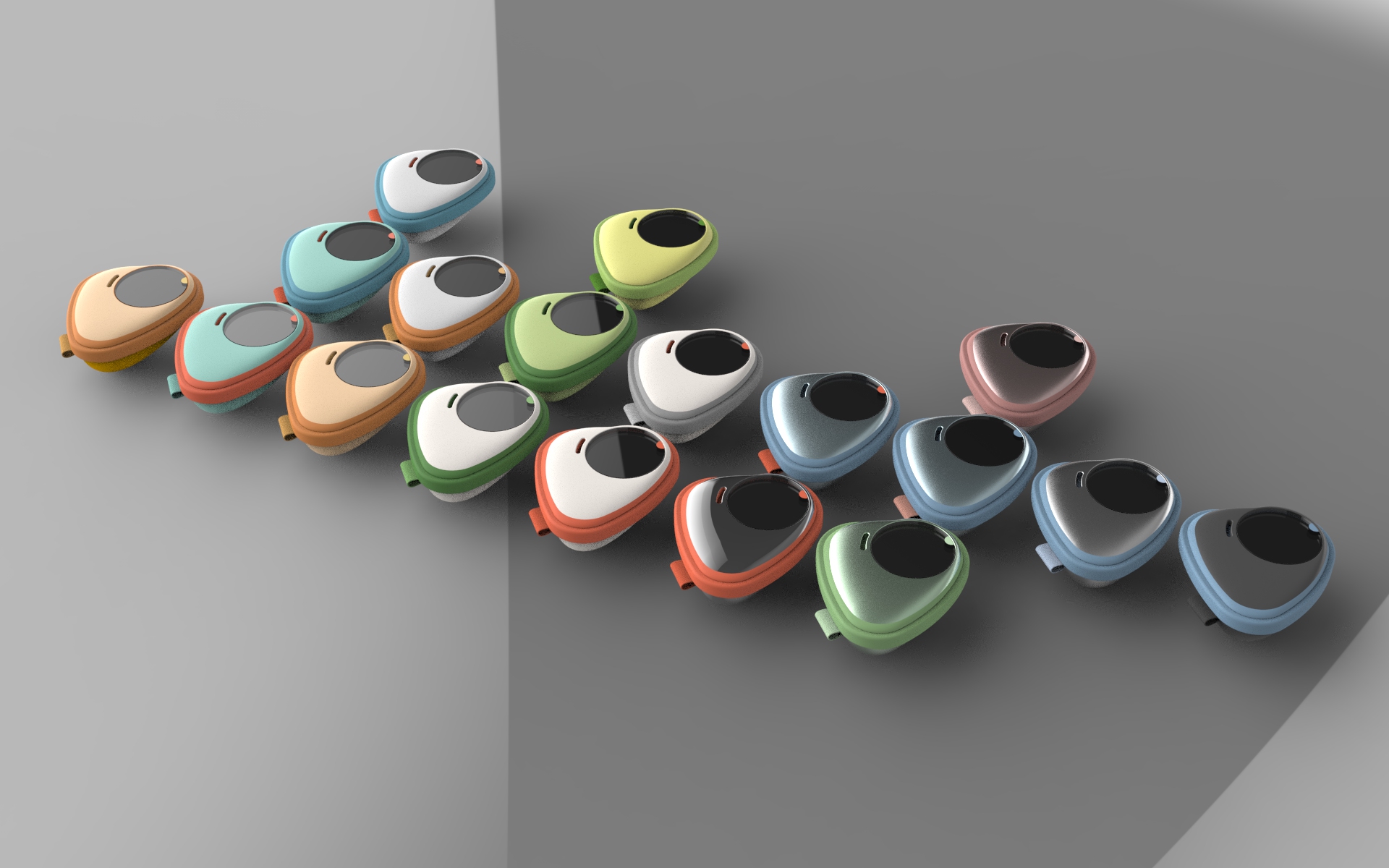 ---